Meet Nina
Looking at Nina today, you'd never know the challenges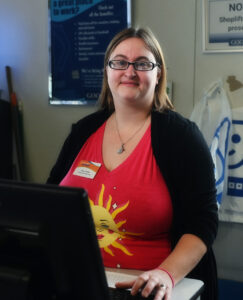 that she's worked hard to overcome. She's married, has three children, has a career at Goodwill, and owns a home. But not so long ago, this wasn't the case.
Nina struggled with addiction for many years, causing her to nearly lose everything. At one point she and her husband were homeless and her children were in foster care. She first came to Goodwill as part of a work training program, and was then hired at our Goodwill store. She knew something needed to change. She had a long list of things she needed to do to get her family back. She decided to take a bold step and went to rehab to get help.
When Nina told the Goodwill manager Tammy the situation, Tammy said, "When you're ready, a job will be here for you."  When Nina returned, Tammy welcomed her back with a hug—and a job. It was a welcome that Nina needed, but hadn't expected. Since then, she worked hard and has been promoted four times with the most recent promotion to assistant store manager. 
Nina's husband got clean too, and found a job. They even saved enough to buy a house. She recognizes that the struggles they've been through would have been too much for most marriages, yet they have stayed together through it all.
The couple met all the court requirements to reunite their family and Nina's two older children are now home. "The support and caring environment that Goodwill has given me helps me every day. Tammy has been a huge part of my success. I've shared my story with other employees who are struggling because I want them to know they have support too."