Come work with a nonprofit that's been changing lives for over 75 years
Easterseals-Goodwill Northern Rocky Mountain Inc. is a non-profit organization providing services in Montana, Idaho, Wyoming and Utah. We are looking for team members who are interested in providing direct care for people with disabilities or health needs, helping others find and keep jobs, working in our Goodwill stores, and more. 
Easterseals-Goodwill's benefits include: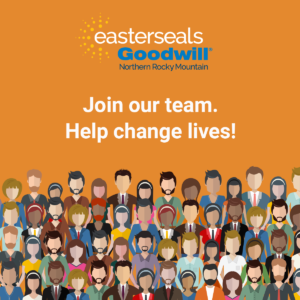 Employee discount at Goodwill stores
Employee discount on services or programs operated by Easterseals-Goodwill
Opportunities to be promoted and grow in your career
Paid time off (PTO) for vacation, holiday and sick leave
Health benefits including health insurance, life insurance, dental and vision plus more
Retirement
Tuition assistance
Other benefits depending upon how long you've worked and if you work full-time or part-time
Flexible shifts
Being part of changing lives
There are many ways to apply:
Click here to view existing openings
Text GoodwillJobs to 314-665-1767 (For retail jobs)
Text Work4ESGW to 773-770-4377 (For direct care and admin jobs)
Stop in a store or program site for an application
Easterseals-Goodwill is an Affirmative Action/Equal Opportunity Employer and encourages applications from the disabled, minorities, women, and veterans of the U.S. armed services.
Easterseals-Goodwill is a 501(c)(3) nonprofit organization and is a qualifying employer for the Public Service Loan Forgiveness ("PSLF") program.  Under the PSLF, you may be eligible for student loan forgiveness on qualifying loans under specific terms.  Contact your loan provider for more information.
Click below to learn more about specific Easterseals-Goodwill workforce development services.